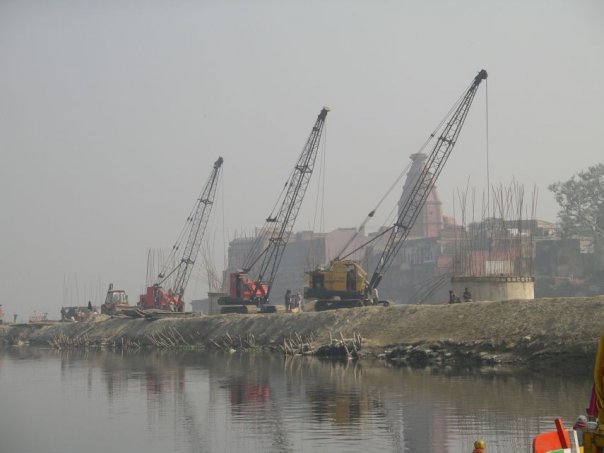 Dear Krsna Talk Subscribers and Friends,
As many of you may already know, there is a very unsightly bypass bridge being built over the Yamuna River in Vrindavana in the area of Kesighat. This government undertaking is disturbing the beauty and sanctity of Kesighat. Furthermore it seems that the construction is actually illegal but the government officials concerned have taken up the project anyway.
Chandan Goswami of Yamuna Vrindavan Heritage Foundation has requested me to notify as many devotees as possible regarding the situation of the bridge and to request everyone to assist in the struggle to end the construction in two ways — first sign the petition against the construction and second, send Goswami an email describing why you as an individual think that the bridge construction should be stopped.
To get up to speed on what is happening and see some photos of the present construction of the bridge just go to the following URL:
http://www.facebook.com/group.php?gid=219561754957
From there you can sign the petition and help save the situation:
Here is the link for the actual petition:
http://www.petitiononline.com/NObridge/petition-sign.html
Then take a few more minutes of your time and email Chandan Goswami with a message why you think the construction of the bridge should be stopped, what harm the bridge is causing and how the bridge is an infringement on the sanctity of Kesighat. Here is Goswami's email address:
Yamuna Vrindavan Heritage Foundation yvhfoundation@gmail.com
Your speedy cooperation on the above matter will be greatly appreciated.
Sri Vaishnava Kijai,
Swami B. G. Narasingha