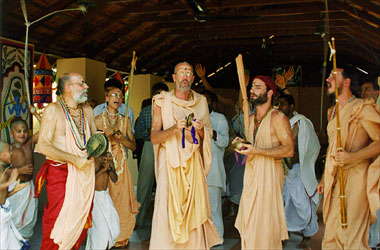 We wish to inform all the devotees that on February 6th, the divine appearance of Sri Nityananda Prabhu was observed at Govindaji Gardens, Sri Narasingha Caitanya Matha, by the ashrama residents and visiting members from Mysore, Bangalore and the U.S.A.
The devotees began preparations for the festival a day before. Many of the devotees were busily engaged in cooking, while other devotees decorated the temple and yajnasala.
On the holy day itself, Swami B. S. Madhava led an enthusiastic Mangala-arati for an auspicious start of the festival.
Srila B. G. Narasingha Maharaja awarded gayatri-diksa to Sriman Haladhara Dasa Adhikari and Sriman Sudarsana Dasa Adhikari. Then, all the sannyasis assembled in Maharaja's room to witness Sriman Baladeva Dasa Brahmacari accept the sannyasa order from His Divine Grace.
Srila Narasingha Maharaja spoke on the importance of sannyasa and gave valuable and practical advice prior to bestowing the sannyasa mantras, vesa and tridandi staff to Baladeva Dasa, conferring upon him the name Sri Bhakti Ananda Avadhuta Maharaja.
Shortly afterwards all the devotees and initiates gathered at the yajnasala where Srila Narasingha Maharaja lectured on Nityananda Tattva, explaining the esoteric appearance of Sri Nityananda Rama. He then gave harinama-diksa to a number of devotees including Vaisnavananda Dasa and his wife Gopal Dasi from Serbia, and Vraja Kishora Dasa and his sister Bhaktapriya Dasi, son and daughter of Jayadeva Prabhu from New Badarinatha Asrama, Vermont.
Sripada B. B. Visnu Maharaja and Swami B. V. Giri conducted an elaborate fire yajna offering oblations to Sri Nityananda Prabhu with Purusa Sukta, and concluding with a Vaisnava Homa.
The program ended with a wonderful kirtan led by Srila Narasingha Maharaja, and a mahaprasadam feast was honored by the assembly of Vaisnavas.
The Editors