Sri Narasingha Chaitanya Mutt
Doddagosaighatt, Ganjam Village, P.O. Box 21, Sri Rangapatna, Karnataka 571438
Phone: (08236) 52738, 52627 Email: gosai@blr.vsnl.net.in
18 May 2001          
Respected Swamiji,
Firstly allow us to congratulate you on your assumption of the paryaya-pitham. We hope that Sri Krishna blesses you with a long life and good health to continue your seva to Him.
We are writing to you to bring to your notice a matter that is causing displeasure and disturbance to thousands of Krishna-bhaktas all over the world. Over the past few years a number of young men claiming to be followers of the Sri Madhvacharya have been continuously blaspheming the Gaudiya Vaishnava community on a website dedicated to Sri Acharya Madhva (www.dvaita.org). In particular they have targeted Srila A.C. Bhaktivedanta Swami Prabhupada who tirelessly propagated the holy name of the Lord throughout the world, resulting in thousands of young men and women of Christian, Jewish and Muslim backgrounds taking to the path of Vaishnavism.
Amongst other things, these young men have publicly declared that Swami Prabhupada is 'not even a Vaishnava' and have vilified him as a 'liar' and denounced his books as 'ludicrous' and 'very poor'. Furthermore, they have condemned Gaudiya vaishnavism as 'a perverted kali-yuga philosophy which is rubbish.' All this they do in the name of Madhva and the Ashta-mathas. This unfortunate situation is breeding unnecessary hostility between our communities and projects the Madhva community in a very bad light.
Since October last year we have received over 750 letters of complaint regarding the behavior of these young men. We acknowledge that there are certain differences in siddhanta between the Gaudiyas and the school of Madhvacharya, yet these young men have crossed the boundaries of proper sad-achara by hurling low-class insults at our acharyas and sampradaya. They do not behave like brahmanas, Vaishnavas nor even decent human beings.
The ashta-mathas in Udupi have always enjoyed a cordial and warm relationship with different Gaudiya institutions such as the Gaudiya Matha, Iskcon and Sri Narasingha Chaitanya Matha in Sri Rangapatna, Gosai Ghat. If something is not done to curb this unfortunate incident that relationship may become enstranged since many devotees around the world will be of the opinion that this website reflects the mood of the ashta-mathas and ultimately the Madhva community itself.
In these current times when the Visva Hindu Parishad is struggling to unite Hinduism and Bharata (India) under a single banner, we feel that your voice to harmonize the above mentioned situation will be most effective and appreciated.
Therefore we are humbly requesting your holiness to kindly write an official letter on the matha-letterhead, mentioning that the statements of these young men, as shown on their website, do not reflect the mood of Sri Pejavara Adhoksaja Mutt and it's community.
Patiently awaiting your response.
Swami Bhakti Gaurava Narasingha
(Acharya —Sri Narasingha Chaitanya Matha)               Swami Bhakti Vijnana Giri
(Junior Swamiji)
Original Letter Given to Pejavara Swami in Sanskrit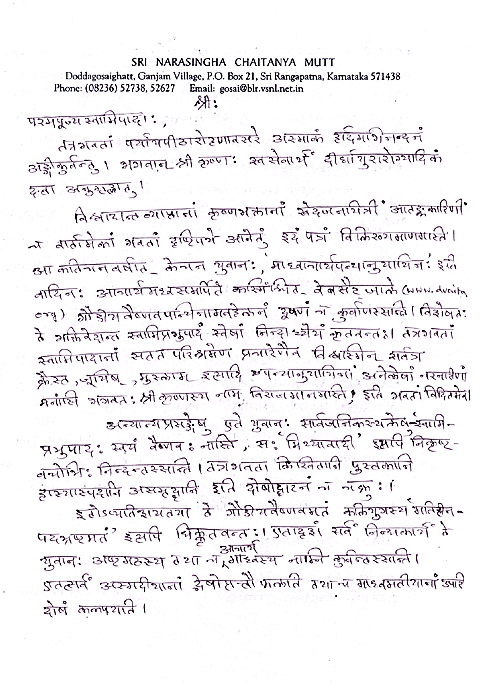 Page 1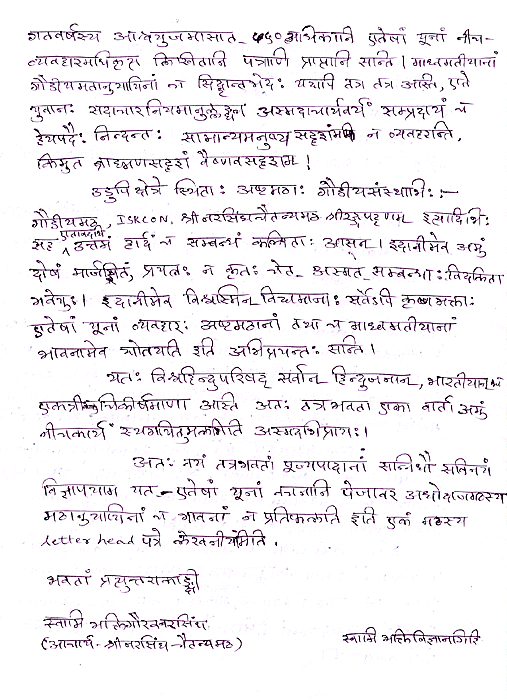 Page 2