In 1970 His Holiness B. B. Vishnu Maharaja graduated from Clarkson College of Technology with a Master of Science degree in Physics. In 1975 Maharaja came in connection with his spiritual master, His Divine Grace A. C. Bhaktivedanta Swami Prabhupada in Los Angeles and walked away from a lucrative life as a potential academic Ph.D. physicist to fully surrender at his lotus feet.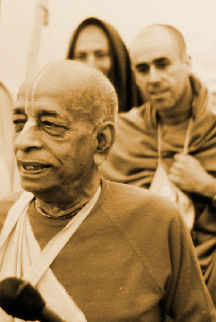 After joining the Los Angeles temple Sripad Vishnu Maharaja took special interest in the philosophy of Krishna consciousness and carefully studied the books of Srila Prabhupada such as Bhagavad Gita and Srimad Bhagavatam. After a few months Sripad Vishnu Maharaja received harinama initiation from Srila Prabhupada at which time he became known as Bhavananda Raya dasa Brahmacari. Shortly thereafter he was recommended for brahman initiation and received the sacred thread.
Always desiring to please Srila Prabhupada as a fully surrendered soul Sripad Vishnu Maharaja engaged in performing sankirtana[book distribution] and soon became a recognized preacher by the community of devotees.
Over the years Sripad Vishnu Maharaja has led out innumerable traveling parties of brahmacharis to Los Vegas and many other cities in the region where he conducted book distribution and held sankirtana festivals to recruit new men and enlighten the public.
After the disappearance of Srila Prabhupada in November of 1977 Sripad Vishnu Maharaja continued his preaching and book distribution programs in the western United States. In 1981 Sripad Vishnu Maharaja began several enthusiastic preaching programs in Chicago at local universities and continued to show himself as a stalwart devotee of Sri Chaitanya Mahaprabhu's sankirtana movement.
In 1982 Sripad Vishnu Maharaja met His Holiness Swami B. G. Narasingha Maharaja and the two of them began a unique preaching and book distribution program called the Museum of Vedic Culture. For five years continuously Sripad Vishnu Maharaja traveled the length and breadth of the United States preaching at cultural festivals and distributing books to the Indian Hindu community. During this time Sripad Vishnu Maharaja made many pilgrimages to India where he visited all the holy places associated with Krishna and Chaitanya lila.
In 1986 Sripad Vishnu Maharaja traveled to Hawaii for preaching and on Gaura Purnima day Maharaja received the order of sannyasa and the title Swami from His Holiness Swami B. G. Narasingha Maharaja.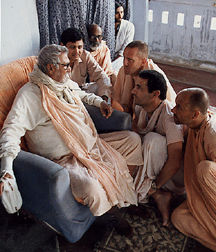 During the Gaura Purnima festival of 1987 Sripad Vishnu Maharaja traveled to Sri Navadwip Dham in India where he received the instruction of the renowned acharya of Gaudiya Vaishnava siddhanta, His Divine Grace Srila Bhaktirakshaka Sridhara Deva Goswami Maharaja. Sripad Vishnu Maharaja remained at the lotus feet of Srila Sridhara Maharaja, continuously hearing his divine instructions for one month.
The following year in the month of May Sripad Vishnu Maharaja received the name and title, Bhakti Bhavana Vishnu, from Srila Sridhara Maharaja. After the disappearance of Srila Sridhara Maharaja from the mortal world in August of 1988 Sripad Vishnu Maharaja went to Vrindavana with Sripad Narasingha Maharaja to establish the Rupanuga Bhajan Ashrama.
Preaching flourished during those days which led to the opening of a preaching center at Trivandram and the establishing of the Sri Narasingha Chaitanya Matha at Mysore, Sri Rangapatna.
Humility and affection for the Vaishnavas are the effulgent qualities of Sripad Vishnu Maharaja's character and thus he is always very dear to the devotees. At the age of 77, Sripad Vishnu Maharaja continues to serve the lotus feet of his divine masters; preaching and leading the devotees in a life of divine service to Sri Sri Radha Govinda and Sriman Mahaprabhu.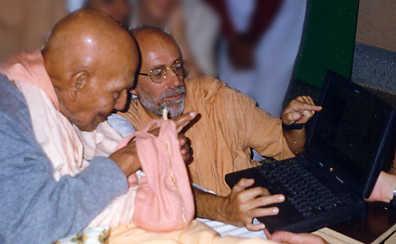 Throughout his devotional career Sripad Vishnu Maharaja has always demonstrated the quality of guru-nistha, having firm faith in the orders of his spiritual master. Although always engaging himself in preaching and book distribution Sripad Vishnu Maharaja was also the associate editor and sanskrit editor of the Clarion Call, Gaudiya Vedanta, and Saranagati Magazines. Maharaja has also authored many articles on the science of Krishna consciousness, numerous Krsna conscious websites and compiled the book, Our Affectionate Guardians. He was also instrumental in compiling Srila Sridhara Maharaja's book, Follow the Angels which was highly appreaciaed and widely received.
Sripad Vishnu Maharaja is also well known for his book and video, Scientific Verification of Vedic Knowldge, which is still widely used by the devotee community for their preaching activities.
Sripad Vishnu Maharaja currently resides in South India at Shri Narasingha Chaitanya Matha and occasionally visits the United States and Europe.
email: Swami B B Vishnu